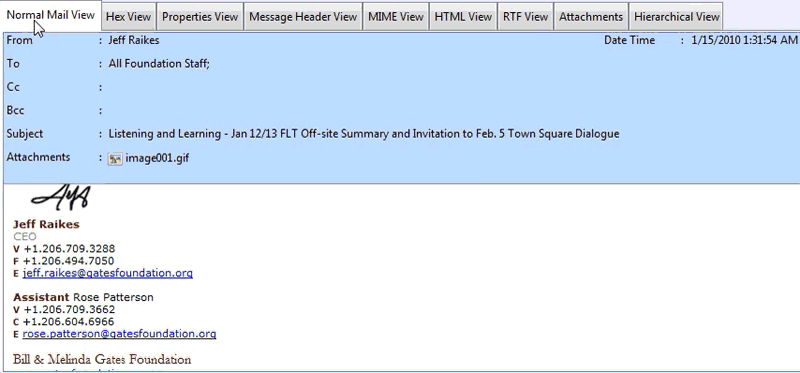 Normal Mode
In the Normal View mode, Software allows you to view the message same as it seen in the email client that you have been using.
Hex View
With the help of Hex View, you can easily examines the physical (byte by byte) structure information of the file. It enables you to view the raw content of the file. The hex code are more beneficial in case, you are programmner and want to edit your code.
Properties View
In the properties view, you will get the information on Body Detalis, Dates, Internet Header Details, Message Flags, Recipients, Represent Sender, Subject, Sender Name.
Message Header View
In the Message Header View, You can easily gets a list of technical details about the message, such as Sender who sent it, Receivers Email ID, Date with Subject, the software used to compose it, and the email servers that it passed through on its way to the recipient.The message header plays vital role in the forensic investigation to carved out the crucial information.
MIME View
The MIME view mode describes you about the email header and the character encoding set, content transfer encoding, Content type with ID etc. The MIME information help forensic investigators to trace the exact location of person who send the mail.
HTML View
In the HTML view, you will see the complete coding of email message in HTML format.
RTF View
Using the RTF view mode you are able to view th rich text content of the email messages.
Attachmnents
The attachments vew lets you to view the content attachements embed in the email message.
Hierarchial View
Hierarchial view list the complete folder hierarchy of the Email Message.